Welcome To The Banning Ranch Conservancy
Banning Ranch is a 401-acre area of wetlands and coastal bluffs in West Newport Beach where the Santa Ana River meets the Pacific Ocean.  It is the last large parcel of unprotected coastal open space remaining in Southern California, and is the central element of the proposed Orange Coast River Park, which, when realized, will achieve a significant linkage of open spaces and wetlands.  Banning Ranch supports a mix of coastal wetland, riparian woodland, coastal bluff sagescrub, shortgrass grassland, and vernal pool communities that are without parallel anywhere in Orange County.
At least six wildlife species listed as threatened or endangered have been documented on Banning Ranch: San Diego Fairy Shrimp, Light-footed Clapper Rail, American Peregrine Falcon, Least Bell's Vireo, California Gnatcatcher and Belding's Savannah Sparrow. In an era where nearly all remaining privately owned open space in Orange County is being developed, Banning Ranch is truly a gem and deserving of being called "Nature's last stand."
Banning Ranch News
MEET OUR NEW EXECUTIVE DIRECTOR!
Join the BRC on Wednesday, September 29 from 7 to 8 pm for a "meet & greet* with our new ED, Melanie Schlotterbeck.  The format will include a dialogue between Board President Terry Welsh and Melanie, based on questions pre-submitted by participants, and if there is time, questions from chat as well. Please send your questions by Thursday, September 23 at 5 PM to info@banningranchconservancy.org.
This is your chance to get to know Melanie and learn about her experience, her skillset and her vision to protect Banning Ranch. Register in advance at:
https://zoom.us/meeting/register/tJArd-uvqj4qH9ILT5Axa1Akoa_yvNO9UN4w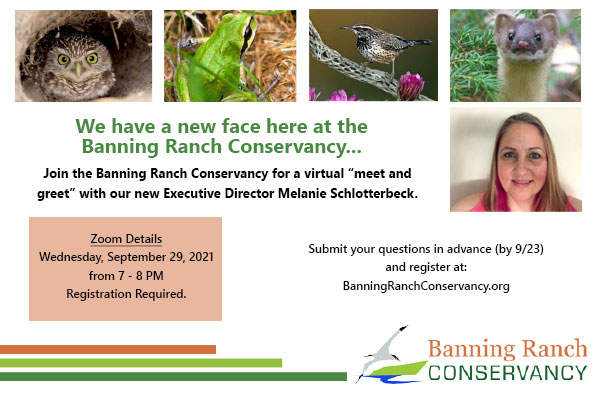 WHAT YOUR SUPPORT ALLOWS US TO DO
NEWS / MEDIA
June 15, 2021. The California Department of Fish and Wildlife granted $8 million toward purchasing the land.